Workshop Details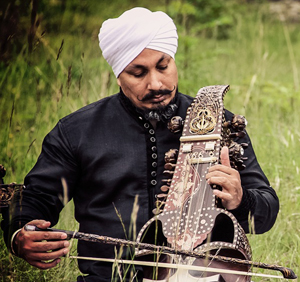 PROF. SURINDER SINGH - Naad Yoga Teacher Training Module 1
DATE : Sunday 24th November 2019
TIME : 10.00am- 2.00pm
VENUE : TBD, TBD, Southall, Greater London, NONE
COST : GBP1440 per course year
DETAILS : Do you feel disconnected from yourself? Do you find it difficult to relate to your emotions? Would you like to create more balance in your life? Do you want to find your true voice and sing your own song?
Naad Yoga Teacher Training is a comprehensive course, covering vocal training, listening skills, sound and meditation, the healing power of sound and its practical application, composition and performance, as well as learning how to play one of six traditional Indian instruments: Saranda, Sarangi, Taus, Rabab, Jori and Dilruba. This 3-year course consists of weekly lessons online, monthly sessions of in-person teaching, individual learning supported by a tutor and one residential week per course year.
Learn how to master the inner communication between mind and soul, using an alchemy of sound and emotions from which emerges the best version of yourself, capable of dealing with anything life might throw at you.
Naad Yoga means harnessing your voice, building up your ability to listen and connecting to your inner emotional landscape in order to achieve self-mastery.
TO BOOK : For more information and to register, go to www.naadyogacouncil.com or contact Satpurakh Kaur satpurakh@rajacademy.com, 07772688339
For more details or to book visit Prof. Surinder's website or contact Prof. Surinder by email or phone on 07772688339.