Workshop Details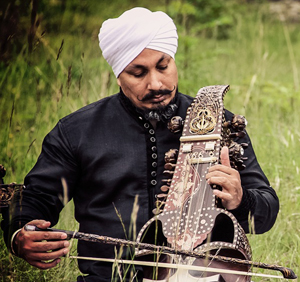 PROF. SURINDER SINGH - Start Sound Therapist Training UK
DATE : Saturday 8th February 2020 - Sunday 9th February 2020
TIME : 10.00am- 2.00pm
VENUE : TBD, TBD, Southall, Greater London, NONE
COST : £200 per month for 12 months (per level)
DETAILS : Understand the applied science of sound therapy and explore how deeply sound influences our emotions. Discover the power of sound, map the dynamics of your expression and experience your inner Naad, using knowledge and techniques from Ancient India.
This is a practitioner-focused programme, giving you the opportunity to develop the healing capacity of your own voice and learn how to manoeuver your deeper listening skills. Listening, singing and silence are three key elements without which expression is impossible.
This course is designed for aspiring or existing sound therapists. It will enable you to gain an in-depth knowledge of the practical mechanisms of this discipline and master the composition of life. The techniques can be applied to yourself to heal and overcome your weaknesses or can be used to help and heal others.
We will take you on an intense journey of sound and emotion, working with the external and the internal body to achieve a balance between left and right brain, harmonizing the flow of our logistic and creative patterns.
You will engage your physical and non-physical elements during this process and will be given techniques to practice and master. During your study, you will have the opportunity to work with real case studies under guidance to gain practical experience.
Join us on an exciting voyage of sound, expression and experience to become a Sound Therapist!
Course Duration: three levels, each 12 months
Course structure: during each level, there will be 4 modules taught in person by Prof. Surinder Singh (8 hours per module), plus 8 monthly meetings with an assigned tutor.
Course Requirements: no musical background or knowledge necessary, just willpower to learn!
Course Dates Level 1:
08/09 February 2020 – Yogi of Sound
March 2020 – Tutor
April 2020 – Tutor
May 2020 – Tutor
30/31 May 2020 – Yogi of Sound
27/28 June 2020 – Yogi of Sound
July 2020 – Tutor
August 2020 – Tutor
September 2020 – Tutor
31 Oct/1 Nov 2020 – Yogi of Sound
December 2020 – Tutor
January 2021 – Tutor
February 2021 – Yogi of Sound
TO BOOK : For questions regarding the course, please contact Satpurakh Kaur via email satpurakh@rajacademy.com or mobile 07772688339. To register you can also go directly to https://rajacademy.wufoo.com/forms/zcc6xzd0gjqwwn/
For more details or to book visit Prof. Surinder's website or contact Prof. Surinder by email or phone on 07772688339.