JEAN HAMMOND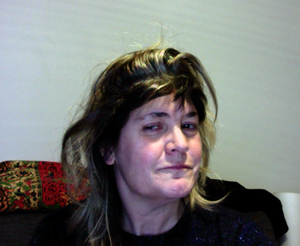 Jean, who has also embraced and now uses the name of Jeanie used to work as a Community Nurse. She used to support the health of adults living in challenging personal and environmental situations. She also trained as a Dramatherapist and lifestyle health Coach and Trainer.
Since retiring from the NHS, she was drawn to exploring how to open the doors of perception of the life force that surrounds us. Sacred Drumming, spoke the language she was seeking . With the drum she developed a relationships with the powers of the sacred directions of the Medicine Wheel . These sacred directions helped to find her inner compass to navigate a way through life more authentically and joyfully. She learned from her teacher that all individual life forms have a heartbeat that keeps their lives coherent and regular. Her Teacher Steven Ash said: "As every cell moves, as every thought ventures, as each tooth strikes, as bone connects to bone, we breath. Everything breathes around us; each time our feet touch the soil, there is an answering echo from beneath. Every tear that flows from our eyes connects with something else". It is this deep undercurrent that we have the power to sense through drumming. When Jeanie is feeling off-beat in life, her drum speaks and takes her into nature where its radiant thread re-weaves into her body and mind. For her the birds appear in the sky , bestowing her with their blessing of curiosity as they're drawn to the sounds of the drum. The rhythmic beat spilling out to her neighbours, who also come with interest and delight. Even a spider comes out from the dark corners . As Jeanie drums, a palpable energy fills her body which makes her feel alive and deeply connected. At these moments, she feels that all creatures are her friends: She touches a delicious reverence inside her being.
Working as a Sacred Drumming Facilitator makes sense of everything she has ever done. She wants to support others to know and find the space of inner and outer communion that infuses their everyday with bliss, to empower them to express their human qualities through the potent medicine of these practices.