Workshop Details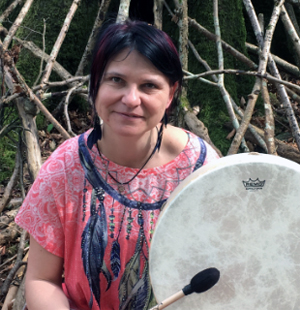 ANETTA PANCZEL - 2 Day Certified Laughter Yoga Leader Course (FHT Accredited)
DATE : Saturday 3rd October 2020 - Sunday 4th October 2020
TIME : Sat 10:00-18:00, Sun 10:00-17:00
VENUE : Lotus Healing Santuary, Friern Barnet, London, Greater London, N11 3NH
COST : 195-225
DETAILS : Learn how to use laughter as a medicine and to lead a laughter workshop mindfully when people don't feel like laughing. Laughter is really the best medicine! Games & laughter filled certified laughter yoga leader training. Why not start your own laughter club & bring sunshine & healing to local communities? Get in touch with you child like playfulness again.
Changing the world with one smile a time. Learn about the benefits of Laughter, History& at least 40 laughter exercises & how to lead a 1 hour session. This course was outlined by a medical doctor, the founder of laughter yoga, Dr Madan Kataria from India. Taught by Anetta an FHT Accredited Laughter Yoga Teacher with lots of experience of running laughter clubs (hen parties, old people's home, Larmer Tree, Colourfest & Purbeck Valley Folk Festivals, Centres for young adults with learning difficulties, team building for companies, parents & kids clubs)
You could attend this course even if you just want to have fun & learn about the benefits & history of laughter yoga & just for your own self-development. Are you already a therapist? You might like to corporate laughter as a therapy in your own healing practice.
Laughter yoga involves laughter games, connecting to your inner child, gentle movements (no yoga poses involved, anyone can do it), laughter meditation, healing pain with laughter, deep breathing, opening up creativity (making up new games) & every session finishes with relaxation / yoga nidra or grounding dance meditation.
As a sound healer I often corporate the drums & rattles with laughter, we also do dances for a few tracks & we dance like no one was watching.
The end of the course you will receive your certificate that is valid to use to run your own laughter club & if you wish to get FHT accreditation you will then have to complete a written assessment & submit a video of you running a laughter club.
TIME : Day 1: 10:00-18:00, Day 2: 10:00-17:00
DATES & VENUES for the 2 day courses 2020:
...........................................
LONDON: Lotus Healing Santuary, Friern Barnet, N11 3NH
3rd/4th October 2020
Maximum 7 attendees, need to bring your own lunch, free parking on road.
--------------------------------------
South Newton, Wiltshire:
21st/22nd November 2020
22nd/23rd May 2021
maximum 5 attendees
Private address, living room, light lunch included (soup & salad),(we have cats in the house, may not suitable for those with severe cat allergy)
....................................
Dates for POOLE, DORSET to be confirmed
****
WHY LAUGHTER?
Laughter...
*Boosts the immune system.
*Reduces the risk of heart disease. Laughing expands the inner walls of the arteries which increases the ability of blood to flow around the body.
*Reduces blood pressure: When you laugh, the blood flow increases, circulation improves & your blood pressure rises. When you stop laughing, your blood pressure drops back to its baseline. This relaxing effect helps to lower your baseline blood pressure.
*Is a natural painkiller.
Belly laughing effectively 'massages' the abdominal organs. The blood flow to these organs is increased and their functioning is improved. Laughing instantly reduces the levels of stress hormones such as cortisol, epinephrine (adrenaline).
Laughter boosts the production of serotonin, a natural anti-depressant.
****
early bird price: £195 if paid fully 8 weeks before course.
FULL PRICE £225, must pay the £40 deposit at least a few days before the course to receive the manual that you need to print & read
PAYMENT (pay with paypal, bank transfer or cheque)
-it includes a registration fee for a 6 month free Prozone membership to be on the International Laughter yoga website with the founder of Laughter Yoga: Dr. Madan Kataria
(£40 is non-refundable, as you will get the laughter yoga manual e-book that YOU NEED TO PRINT & READ BEFORE THE COURSE)
This course counts 13 Hours for your CPD
TO BOOK : e-mail: positivitywithin@gmail.com
For more details or to book visit Anetta's website or contact Anetta by email or phone on 07940022119.