PROF. SURINDER SINGH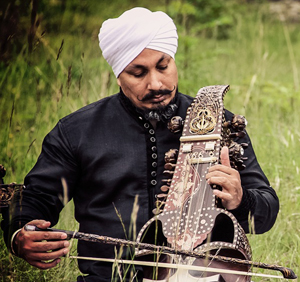 Professor Surinder Singh is a master of Naad Yoga and Professor of Sikh and Indian Musicology at University of West London. He is the founder of Raj Academy Conservatoire, a school based in west London.
Raj Academy's objective is to educate people in the universal healing arts of Naad Yoga and Sikh music (singing according to the raag prescribed in the text), as well as promoting traditional instruments.
Professor Surinder Singh's academic education includes a BA in Economics, after which he went on to graduate with an MA in Classical Indian Music followed by an MPhil at Guru Nanak Dev University, Amritsar. It was in his early teens that he found his passion for music.
He began studying Indian Classical Music with Pandit Kharayti Lal Tahim of the Delhi Gharana. His musical training continued in England with the study of ancient authentic string instruments including the Sarangi under Surjit Singh Aulakh.