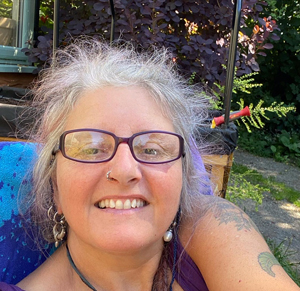 Hara comes from a family of musicians and artists and has always found a sense of deep peace, spiritual connection and love through the shared experience of the human voice and music. She lives on a smallholding in Wales with her husband, where she has been exploring healing using love, compassion, yoga, Authentic Power, Shamanic practice, colour and sound since 1991.
As well as giving and teaching sound healing, Hara also runs workshops, courses, retreats and community events. The deepest intention behind all her work is that of creating spiritual connection, peace and healing in community, for the highest good of all beings.
She has spent many years training in various chakra centred healing methods, including graduating from the College of Healing, four years training in Authentic Power Practice with Gary Zukav, an MSc in Consciousness Studies and Transpersonal psychology and teacher training in Transformational yoga.
Healing with sound has brought her the greatest joy in her life so far.